Chris Vollum, Renowned Expert on Social Media to Present at SGDSB
May 31, 2017 at 7:00 pm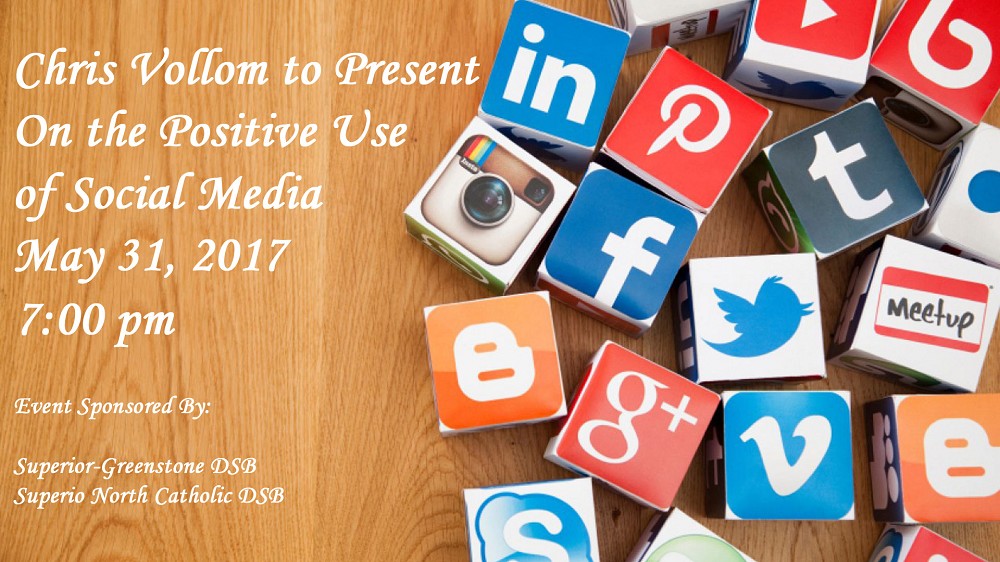 Chris Vollom, Renowned Expert on Social Media to Present in Superior-Greenstone DSB and Area Communities
MARATHON, Ontario – On May 31, 2017, Superior-Greenstone District School Board and Superior North Catholic District School Board welcome parents, guardians, students and community members to connect and learn with Chris Vollum around the use of social media and how we can support our students in the appropriate and powerful use of it. Our goal is to help build both student and parent/guardian confidence around its positive use.
Chris Vollum is a widely recognized expert in the area of social media and has presented to over 500,000 students throughout North America. Chris will be presenting to parents on-site at Lake Superior High School in Terrace Bay. The event will be livestreamed at the following hub sites:
Manitouwadge High School - 200 Manitou Road West, Manitouwadge, Ontario
Marathon High School - 14 Hemlo Drive, Marathon, Ontario
Lake Superior High School (Chris Vollum on site) - 19 Hudson Drive, Terrace Bay, Ontario
George O'Neill Public School - Corner of 6th &Bell Street, Nipigon, Ontario
Geraldton Composite High School - 500 Second Street West, Geraldton, Ontario
Doors to the hub sites will open at 6:30 pm and the session is to begin at 7:00 pm. After the one hour presentation, there will be a question and answer period. Childcare services and light refreshments will be available at each hub site.
Students in grades 6, 7, and 8 will have the opportunity to participate in a student presentation by Chris Vollum in the afternoon of May 31, 2017. Please contact your son/daughter's school for location information.
Director of Education, David Tamblyn noted that "As always, we look forward to coming together with parents and guardians to support our students in achieving well-being".