COVID-19 Updates and Resources
The health and safety of our students and staff remain our highest priority. The Superior-Greenstone District School Board is working closely with the Thunder Bay District Health Unit, as well as the Ministry of Education, who are working closely with the Ministry of Health, Public Health Ontario and local health care providers to monitor this situation and take action as appropriate. As new information is released to school communities from the Thunder Bay District Health Unit, we will share that information with you and post it on this website.
The plans for the 2021-2022 school year are available on our Returning to School page, were we provide details of the school year within our Fact Sheets.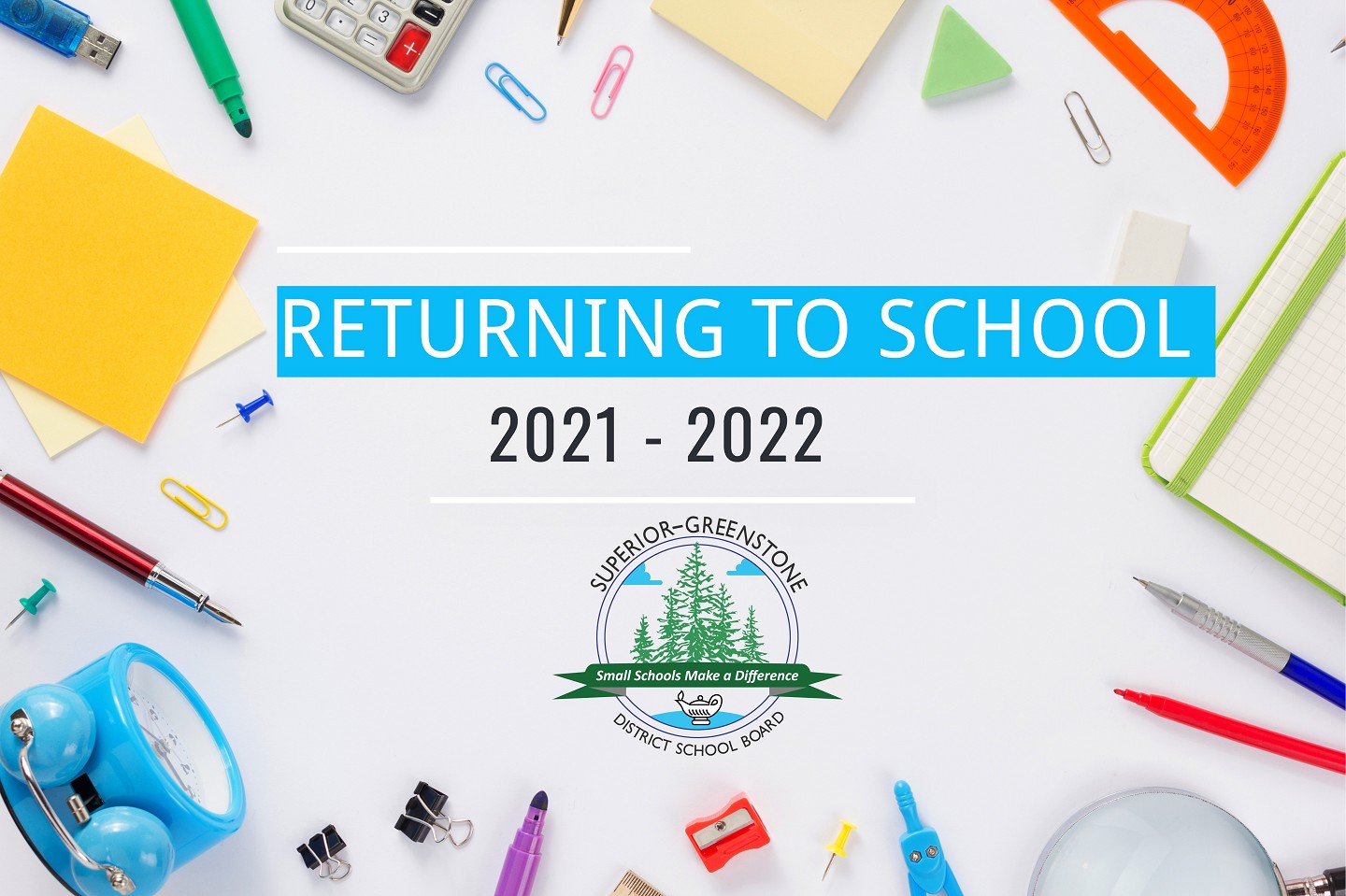 COVID-19 Protocols
The implementation of our enhanced health and safety protocols will reduce the risk of transmitting the COVID-19 virus. It is important that everyone does their part to stay safe and healthy (both inside schools and in any public setting). The Ministry of Education has established COVID-19 outbreak protocols that we will be following in the event that someone feels sick and/or contacts the virus.
Operational Guidance: COVID-19 Management in Schools
SGDSB's Pandemic Preparedness and Response Plan
Thunder Bay District Health Unit: Information for Parents/Caregivers of High Risk Close Contacts of COVID-19
As indicated in the Operational Guidance document from the Ministry of Education regarding the COVID-19 Management in Schools, SGDSB will update the COVID-19 Advisories webpage daily regarding any confirmed cases of COVID-19 amongst our staff or students. SGDSB will not post specific schools, but for the entire board. In the interest of privacy, information provided to school communities will not identify the student or staff member that has received a positive COVID-19 test result.
When there is a case in an individual school, the families of students in that school will be notified directly. If the Thunder Bay District Health Unit advises that a class, cohort or school should be closed for a period of time, parents, students and staff will be notified immediately. Notice of any closures of classes, cohorts or schools will be posted on the COVID Advisories page for parents and communities.
---
Communication from SGDSB
We are committed to providing staff and families with updates as we receive new information and direction. Below are letters to families that have been provided by the Superior-Greenstone District School Board and/or the Thunder Bay District Health Unit (TBHDU) for the 2021-2022 School year.
At this time there have been not been any letters to families issues. For details regarding the return to school, please visit our Returning to School 2021-2022 page.
---
Trusted Sources of information can be found on the following websites:
Public Health Ontario: www.publichealthontario.ca
Ontario Ministry of Health: www.ontario.ca/coronavirus
Thunder Bay District Health Unit: www.tbdhu.com/coronavirus
Public Health Agency of Canada: https://www.canada.ca/en/public-health/services/diseases/2019-novel-coronavirus-infection.html
Government of Canada Travel Advise and Advisory: www.travel.gc.ca
For more information about COVID-19, contact the Thunder Bay District Health Unit directly on their website at www.tbdhu.com or by calling the TBDHU at (807) 626-5900 or 1 (888) 294-6630 OR call Telehealth at 1-866-797-0000 to access further information.