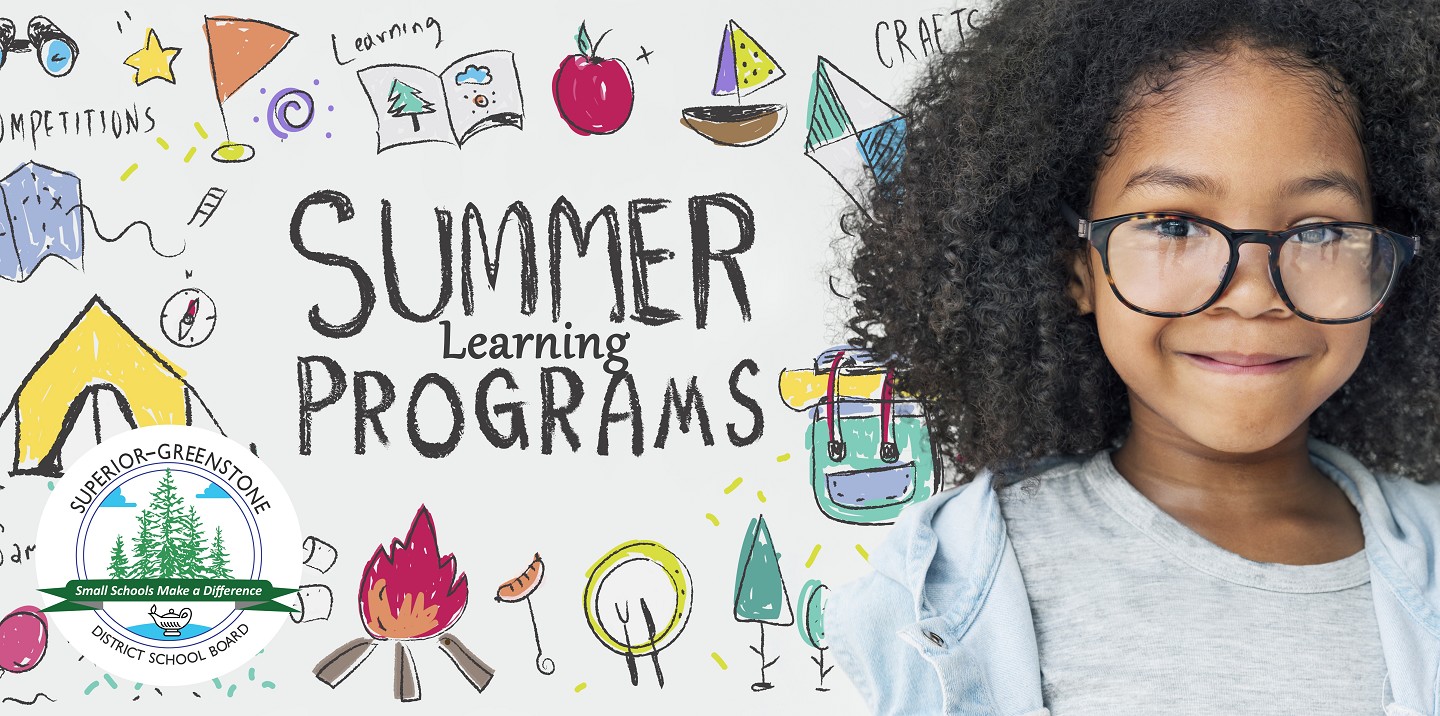 We are incredibly excited for the Summer Learning Program! This is the second year we have been able to reach our entire district with our programming through virtual platforms, and we cannot wait to meet, and re-connect with all of our learners! Families across the region can contact their home school principals, or the Summer Learning Principal, Tara Balog at 807-826-4011 or by email tbalog@sgdsb.on.ca The deadline to register is June 18th, 2021. Program posters are available below and provide additional information on these exciting programs ;
Code and Grow: Grade 7-8 Coding and Math Camp
Camp Quest: Literacy and Numeracy Camp
Reach Ahead: Grade 8 students have the opportunity to earn a Grade 9 Credit for family studies.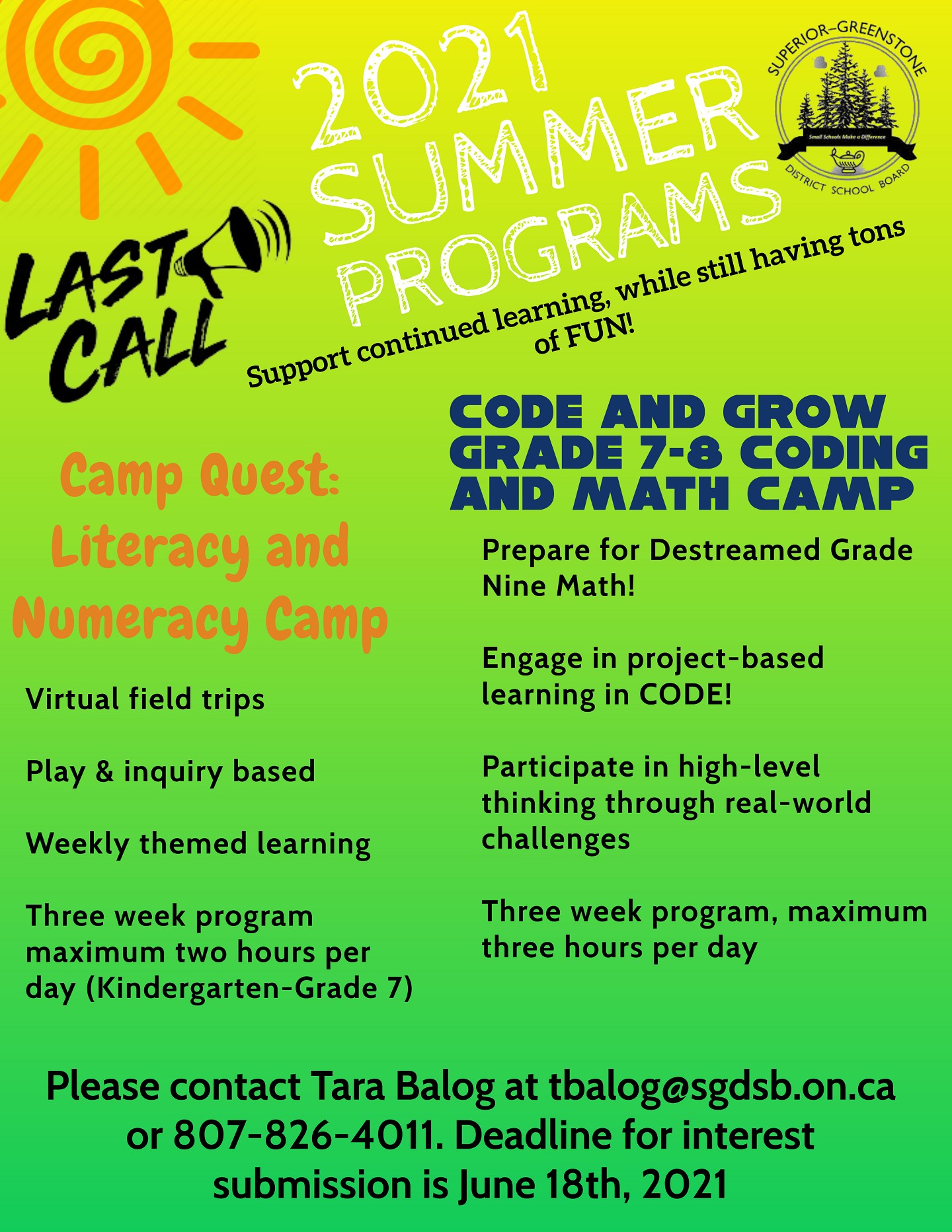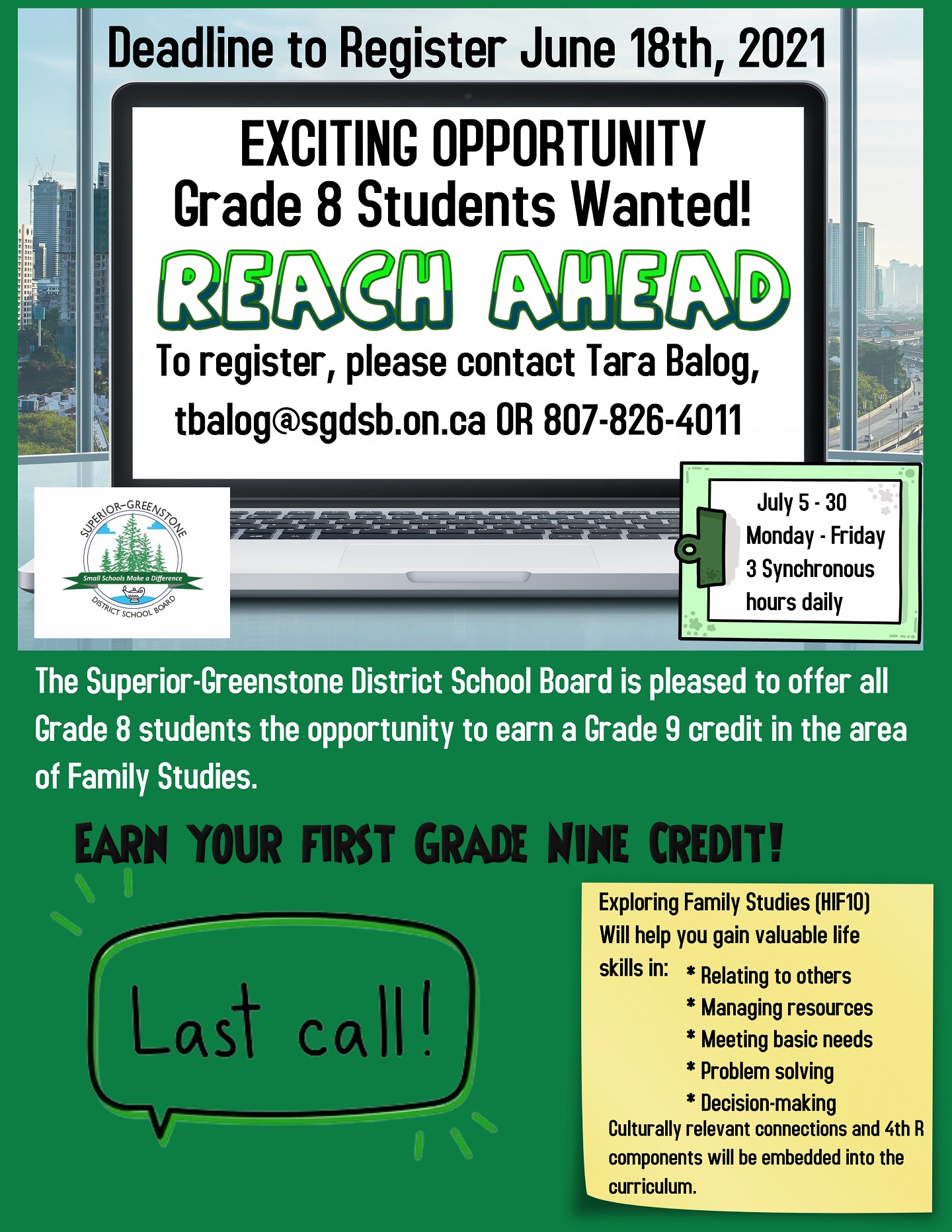 What Programs are being offered? Who can attend?
This year we have three summer programs available for students across our region---Superior Greenstone students, as well as students from our co-terminus boards, and associate schools are all welcome to sign up for some summer fun.
Camp Quest is for students in Kindergarten to Grade Seven, this program runs for three-weeks for 2 hours a day, with themed weeks of fun and engaging learning that focus on the joys of reading and the exciting world of mathematics.
We are also offering our Code and Grow program for Grade Seven and Eight Students, this program will explore 21st century skills through the lens of coding and mathematics to support continued skill development, and also provide an opportunity for students to prepare for de-streamed mathematics programs during their first year of high school.
Last but certainly not least we have our Reach Ahead Program. This program is for Grade Eight students, and, upon completion of this course grade eight students can gain a credit even before entering their first year of high school! The reach ahead credit program is a family studies credit, full of interactive learning created by our energetic and accomplished educators, guest speakers from within our communities, and skill building activities to support grade eight students transitions to the high school learning environment.
How are these programs different from regular scheduled classroom learning that occurs September through to June?
The opportunities available to students this summer are condensed, and though the programs continue to provide support for students drawing from the various curriculum's, the program topics are of high interest to the students involved. Also, recognizing that it is summertime, these programs are designed to ensure that students are learning valuable skills through engaging activities that don't feel like learning at all!
What benefits can Summer Learning offer students?
Our programs are packed full of unique and engaging benefits for our learners! These programs allow for students to continue to maintain social opportunities with their peers, and offer a unique space where students across our district can also build new relationships across the region as we know that connection outside of the immediate family unit has been a challenge for us all this year. In addition, Grade 7 and 8 de-streaming and reach ahead programs will allow students to engage in incredibly important transition opportunities that will help ease their movement into the high school environment. We recognize how valuable providing supports for the high school transition is to our learners, and, want our students to be fully ready for their move to secondary levels of learning, therefore the more preparation opportunities available, the more confident our learners will be in September. Lastly, Our energetic educators are ready to provide learning environments that are exciting, of interest to learners, and provide valuable 21st century skill development opportunities.
What other programs and opportunities will SGDSB be providing over the summer months?
To compliment our learning programs, the Superior-Greenstone DSB Summer Learning Team will also include mental health services, to continue to support the well being of our learners. Our highly trained staff will offer supports for learning, mental health, and programming around social emotional skills and strategies.
In addition, later in the summer we will be offering programming, including transition and routine preparation, assistive technology camps, and transition drop in courses online to support the needs of all students. Stay tuned for more details to come!
How do families get involved?
We are incredibly excited for the Summer Learning Program! This is the second year we have been able to reach our entire district with our programming through virtual platforms, and we cannot wait to meet, and re-connect with all of our learners! Families across the region can contact their home school principals, or the Summer Learning Principal, Tara Balog at 807-826-4011 or by email tbalog@sgdsb.on.ca
Deadline to register is June 18th, 2021