Mental Health and Well-Being Resources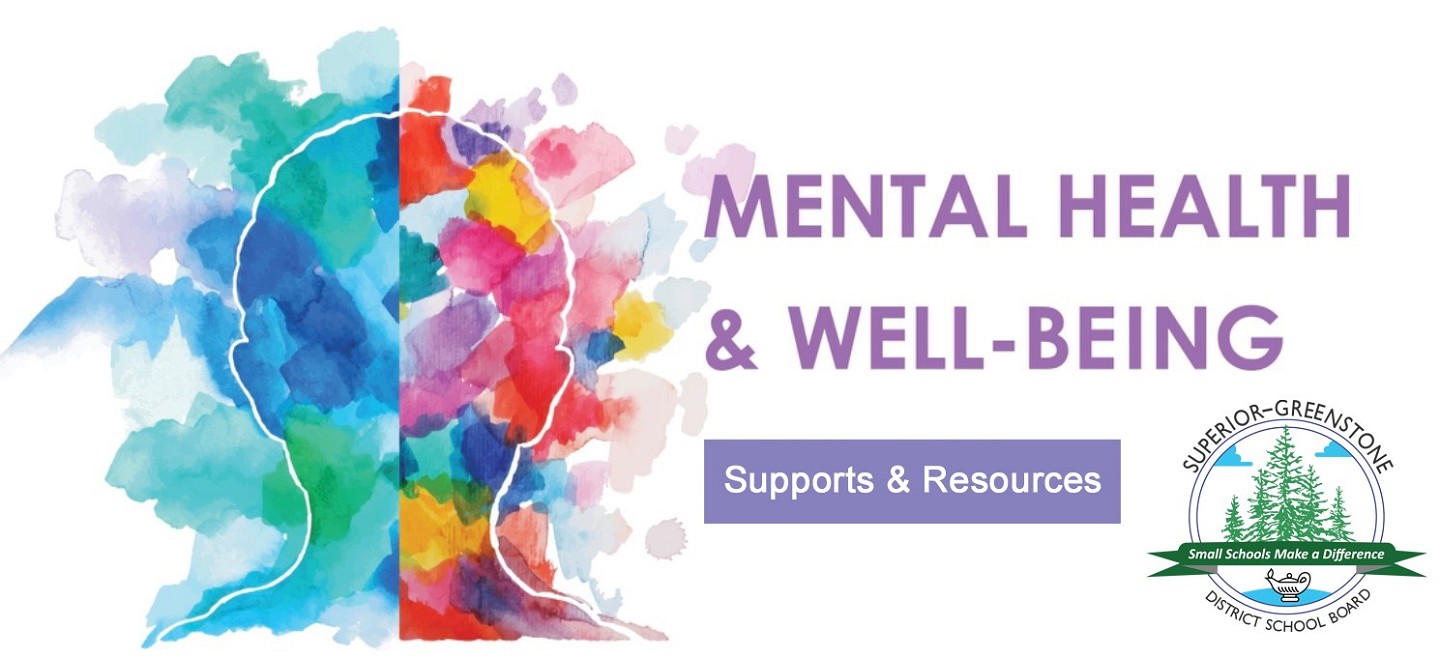 What is COVID-19 (Coronavirus)?
Coronaviruses are a large family of viruses that commonly cause mild to moderate respiratory symptoms in humans. Most people with common human coronavirus illness (i.e. the common cold) will recover on their own. However, some coronaviruses have been known to cause severe illness. Some human coronaviruses spread easily between people, while others do not.
Prevent the Spread of COVID-19
Stay at home if you are ill.
Practice social distancing and avoid crowds.
Wash your hands frequently with soap and water or use an alchohol based hand rub with 80-90% alcohol.
Cough and sneeze into your sleeve or tissue.
Avoid touching your eyes, nose or mouth without having washed your hands.
Frequently clean commonly touched surfaces.
Take Care of Yourself
Take time to eat and hydrate adequately. Be mindful of the foods you choose and how much water you drink. Food and water fuel us for the day. Eath healthy snacks. Limit caffeine intake. Notice and enjoy your meals and snacks.
Aim to get at least 7-8 hours of sleep each night. Research has shown that getting five hours or less of sleep a night can lead to health problems. Getting enough sleep also helps you cope with the stresses of everyday life.
Stay Active and Be Well
Physical activity increases your energy, enhances your immune system, reduces insomnia, stimulates brain growth, and even acts as an antidepressent.
With limitations on social gathering places it is a great time to get outside, hike, walk, ski, snowshoe and enjoy play outdoors.
Stay connectd, as supportive relationships are one of the most powerful influences on our sense of wellness.
If you can't see your loved ones every day, you can still send a text, email or make a phone call.
What do I do if I suspect I have symptoms?
If you think you have COVID-19 symptoms or have been in close contact with someone who has it, please use this 2019 Novel Coronavirus (COVID-19) self-assessment tool to help determine if you need to seek further care. If you are having difficulty breathing or experiencing other severe symptoms, call 911 immediately. Advise them of your symptoms and travel history.
Do not present to walk in clinics or emergency departments. Please call the Thunder Bay District Health Unit at (807) 625-5900 or toll-free at 1-888-294-6630.
---
Superior-Greenstone District School Board Pandemic Plan
A Ministerial order has closed all publicly funded schools from March 14 - May 4, 2020. During this time, SGDSB will be engaging in a deep cleaning of all our buildings, during which time students and staff will not be in our buildings. Further precautions are being made with appropriate cleaning agents and recommended hygiene methods are being utilized.
We want to acknowledge that in the midst of pandemic planning and precautionary measures that we are taking as a board, that these measures are in fact to prevent the exposure and spread of the COVID-19.
We want to continue to support healthy communities and support people in engaging in appropriate hygience, appropriate use of medical services and practice wellness overall.
This is a time for us to slow down and engage in intentional steps so that we can all remain healthy and well. It is a time to remember to frame our decisions around prevention, remain calm, act in kindness, check in on each other and follow recommended guidelines from the Thunder Bay District Health Unit and Provincial health authorities.
---

- Download/view the challenge here!
Well-Being & Mental Health Resources
Although our schools remain closed during this time due to COVID-19, the SGDSB team is committed to supporting students and staff mental health. We know that as parents/caregivers, students, educators and community members our children's and community members mental health needs are extremely important, as it is to all of us at SGDSB.
Our board is working closely with the Ministry of Education, School Mental Health Ontario (SMHO) and our community mental health service providers to ensure student safety and well-being needs are being met.
We recognize that the current climate is stressful to students, families and staff. We invite you to review and access the resources listed below. In the event, you are concerned for your own mental health and well-being or the well-being of others, we encourage you to reach out to a community based mental health service provider, our school administration, a trusted adult or one of the resources below: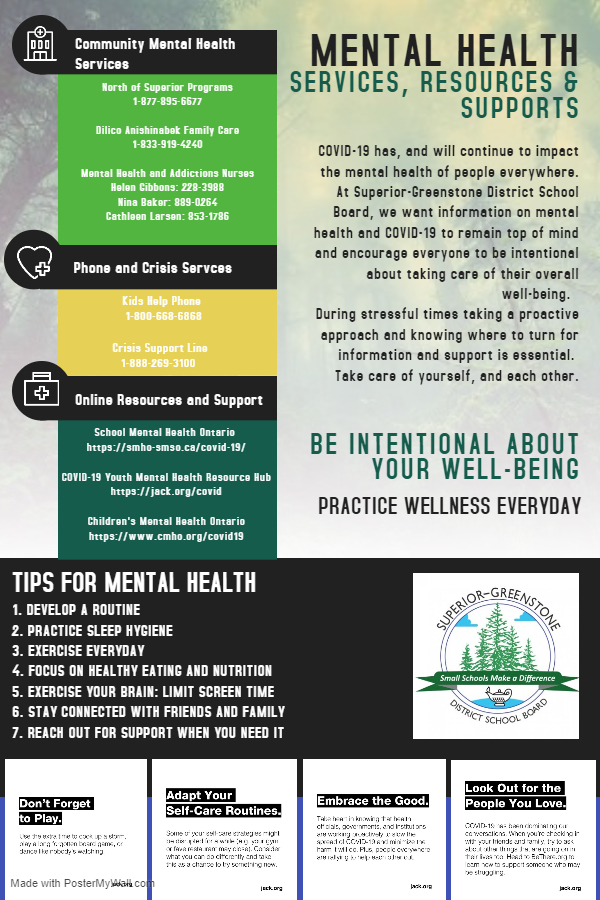 Student Resources
Jack.org/covid

A COVID-19 Mental Health Resource Hub that provides Canada's youth with easy-to-acess education, tools, support adn the reliable information they need.

Kids Help Phone

Children and teens can reach out to counsellors at Kids Help Phone who are available 24/7 via phone, text or online chat.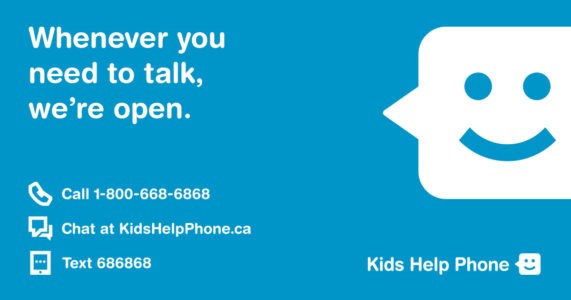 Parent/Caregiver, Staff and Community Resources
School Mental Health Ontario

School Mental Health Ontario (SMHO), is a provincial implementation support team. Through access to evidence-based resources and strategies, the team aims to support school boards across the province in enhancing student mental health and well-being. The website provides resources for school and system leaders, educators, students, parents/families and school mental health professionals.
Resources