New Parent Involvement Committee Chair Appointed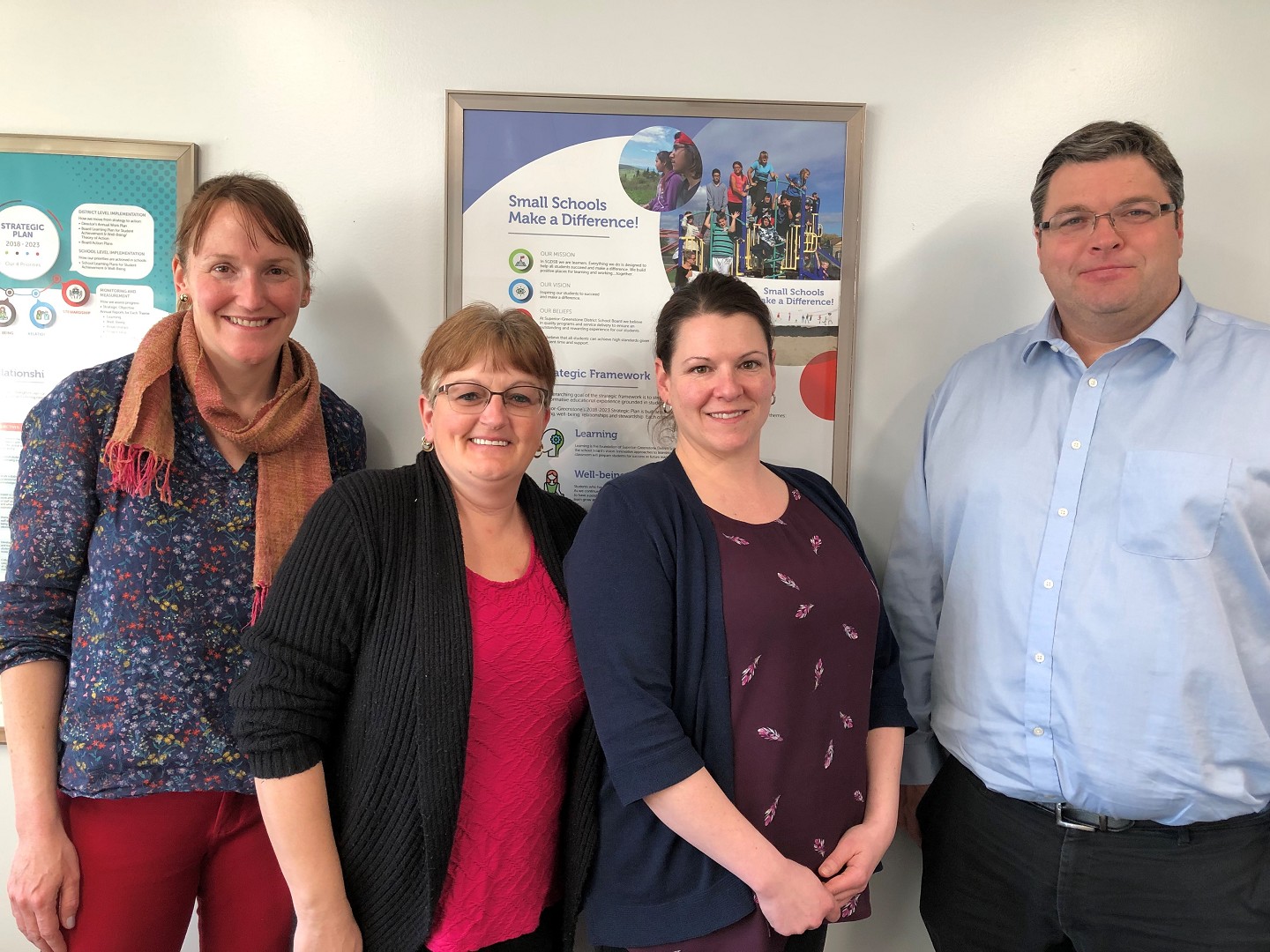 Pictured left to right: Marathon High School Principal Jennifer Oussoren, PIC member Paula Schwantz, PIC Chair Pam Fox, and Margaret Twomey Public School Principal Cameron Craig.
New Parent Involvement Committee Chair Appointed
The Superior-Greenstone District School Board (SGDSB) is pleased to announce the appointment of Pam Fox as their new Parent Involvement Committee Chair. At the Board's regularly scheduled Parent Involvement Committee (PIC) meeting on Tuesday, April 23rd, Fox was appointed by the Committee to serve as the Committee Chair. For several years Fox has supported her children's education by serving as a member of the Margaret Twomey Public School Council and the Board's Parent Involvement Committee.
Parents play a vital role in the development and education of their children and in their success at school.
The role of the Parent Involvement Committee is to support, encourage and enhance parent engagement at the Board level in order to improve student achievement and well-being. This is achieved by sharing information and advice on parent engagement, communicating with and supporting School Councils and helping parents support their children's learning at home and at school.
The PIC meets at least 4 times each school year and the committee is comprised of parent members from each school, the Director of Education and a Board Trustee. PICs and School Councils provide opportunities for parents to be involved and contribute to student success. School Councils focus on the local school and community and the PICs work at the Board level to support parent engagement across the school board. The PIC acts as a direct link for parents to the Director of Education and the Board of Trustees. The PIC works to support, encourage, and enhance the engagement of parents in improving student achievement and well-being.
The Interim Director of Education, Nicole Morden Cormier stated that she is "excited for the opportunity to work closely with Pam Fox as our new Parent Involvement Committee Chair. The School Council and Parent Involvement Committee members provide important contributions to education and parents are a valued part of our school communities. Great education is a result of successful partnerships between students, parents, teachers, principals, trustees, school board and the community. As a member of the Parent Involvement Committee, parents have an opportunity to strengthen this partnership and become part of a dedicated team committed to student success."
To learn more about how to become involved. Please contact your child's school Principal.