Our Focus: Supporting Mental Health & Well-Being
"Good mental health is foundational to achievement. Students who report feeling mentally well, are more ready to learn, feel a stronger sense of belonging at school, and perform better academically. Substance use prevention programs and supports can also help improve student performance, participation, and overall well-being. The well-being of others such as school staff, family, and other students may also have an impact on student mental health and should be acknowledged as an important factor in supporting student mental health and wellness." - Quote from Policy/Program Memorandum 169
We understand the importance of addressing the well-being of our students and communities through the integration of culturally relevant practice, equity, learning about self-regulation, implementing positive behaviour strategies, engaging in self-care, and building social emotional skills. We have a whole system approach and strive to engage in learning and support the mental health of our students, staff, and communities.
As we begin an exciting new school year, the Superior-Greenstone District School Board is focusing on supporting Mental Health & Well-Being. Part of this focus is working to ensure that we are getting feedback from parents on what students need at school, to support their mental health. To collect your thoughts and ideas, we have developed a Thought Exchange that all parents can access so we can hear from you! In the Thought Exchange platform, you can either provide a response, or you can rate the thoughts of others. This information will help us ensure that students are getting the supports and programming they need at school.
Thought Exchange Question for Parents/Caregivers
---
What is Mental Health?
Mental health is health! It is a desirable state of well-being or thriving. Mental health includes our emotional, psychological, and social well-being. It affects how we think, feel, and act, and helps determine how we handle stress, relate to others, and make choices.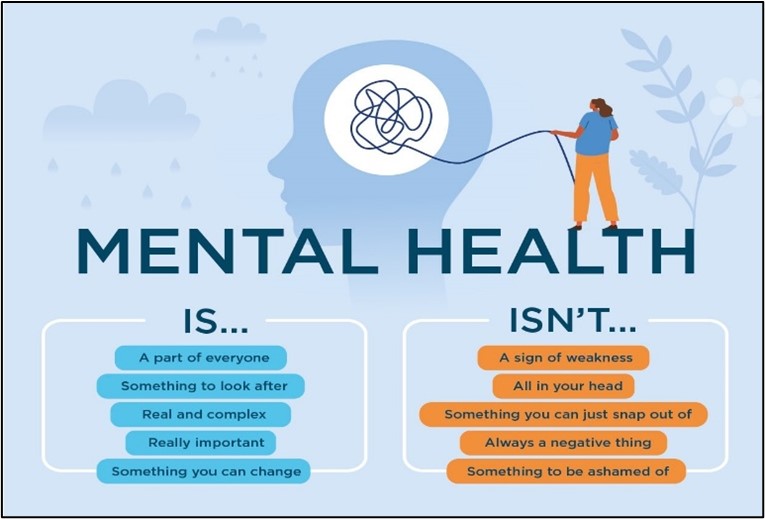 How To Talk With Your Child About Mental Health
It can be challenging to talk about mental health. Sometimes caregivers, like others, avoid the conversation because they don't know how to start or they worry that they might put thoughts into their child's head that had not been there, and will, therefore, make things worse. Research tells us that this is not the case.
Discussing worries, concerns, changes in behaviour etc. with your child will open the lines of communication rather than worsen the situation. Here are some tips to help you talk to your child about mental health:
Find a quiet time when you are unlikely to have interruptions to begin the conversation.
Reassure your child that they can tell you anything and you will not get angry with them (even if you get scared).
Start the conversation with describing changes you have noticed in their mood, behaviour, reactions etc.e.g., "I have noticed that you seem to be crying more." If you have had conversations with your child's teacher about concerns, include comments from the teacher's observations.
Share that you "wonder" about how your child might be feeling, what they might be thinking, what they might be worried about etc. e.g., "I wonder if you're feeling sad about losing your friendship with Sam."
Allow your child time to reflect before they answer.
Stay calm and don't abandon the conversation if your child responds with "Nothing is wrong……leave me alone". If this happens, reassure your child that you are there for them. Give your child some time and then try again.
If your child tells you anything that makes you worried ( e.g., thoughts of suicide, overwhelming anxiety, self-injurious behaviour like cutting) reassure your child that you are glad they told you and you will help them find the right professional to talk to, and you will be there for them throughout the journey.
School Mental Health Ontario Resource - How to talk with your child about mental health
Take Care of Your Mental Health as a Caregiver
Make sure you are practicing self-care, coping with stress in healthy ways. Reach out to community services if you need extra support.
Focus On Nutrition, Sleep, and Exercise
Eat a well-balanced diet at regular intervals throughout the day. Utilize Canada's Food Guide. Avoid excessive caffeine and alcohol consumption and try to cook healthy meals together as a family.
Practice good sleeping habits. Have reasonable bed and wake up times. Avoid leaving tasks until late evening and late online or screen activities. Find relaxing activities to wind down.
Plan for regular outdoor activity! Go for a walk, hike, snowshoe, go play in the back yard.
Develop a Routine
A good strategy is to set a routine for your whole family with a regular wake time, bedtime, nutrition breaks, family breaks, exercise breaks and blocks of time for work. The best time to get work done is early morning, especially if you have children at home.
Exercise Your Brain-Limit or Reduce Screen Time
It is important to take a break from screen time, especially social media, and news broadcasts. Keeping our minds stimulated is important to mental well-being. Learn a new skill, try a new recipe, do something creative, play games or do puzzles, do an online course, or read a book.
---
Mental Heath Services, Resources, & Supports
Here at Superior-Greenstone District School Board, we are committed to a board-wide culture that prioritizes well-being and relentless advocacy to identify students needs and support mental health.
We have Child and Youth Workers, Mental Health Workers, and Attendance Counsellors that support students where they are, at school!
As your Principal about the supports that are available in your school.
Community Mental Health Services
North of Superior Programs: 1-877-895-6677
Dilico Anishinabek Family Care: 1-855-623-8511
Mental Health and Addictions Nurses (for Students only): 1-800-626-5406
Phone and Crisis Services
Kids Help Phone: 1-800-668-6868
Crisis Support Line: 1-888-269-3100
Online Resources
Children's Mental Health Ontario