Our programs section features important information, reports, and publications designed to assist teachers and principals organize and plan for the year. From accessibility plans and pupil reports to curriculum planners and Pathways for Success charts, our site features an abundance of information.
It is our goal to provide our educators with the educational resources and support they need to have a positive impact on the quality of education they provide.
Please select a topic on the left for further education and resource information. You may also enter your search in the search field at the top right hand corner of this page.
Our Goals
At the Superior-Greenstone District School Board, we will pursue the following strategies: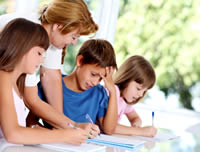 develop students' character and life skills
increase and improve partnerships
access technology to equalize opportunities among students
develop a communication plan
improve First Nations outreach
improve professional development
contribute to economic development
make schools fun!