Every Child Matters at SGDSB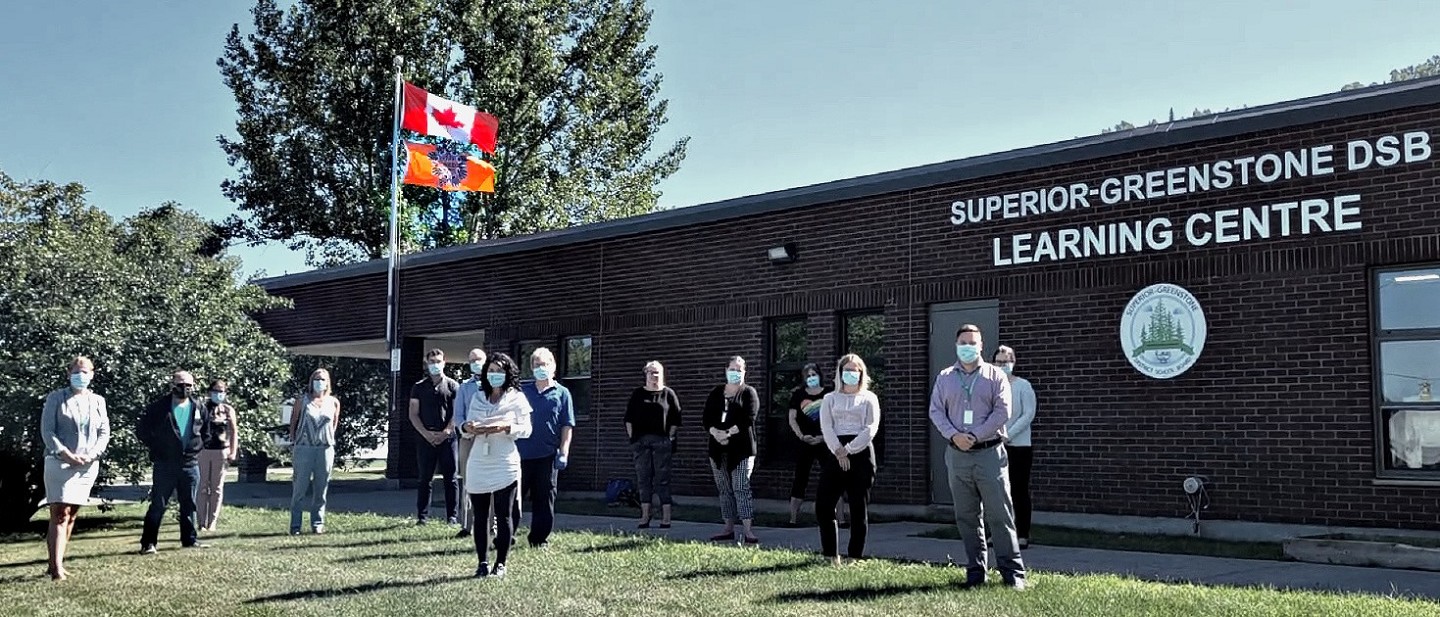 MARATHON, Ontario – Throughout the month of September, Superior-Greenstone District School Board will formally demonstrate their continued commitment to focusing on truth and reconciliation. This month the school board will be providing students and staff with the opportunity to engage in activities that connect culture to well-being. In addition to these activities and leading up to September 30th, the National Day for Truth and Reconciliation, each of their schools will raise the "Every Child Matters" flag.
The school board continues to mourn the Indigenous children whose lives were taken at former Residential School sites across the country and recognize the heartbreaking history of residential schools and the devastating impact this trauma has caused all Indigenous Peoples. Each school is committed to engaging, learning and discussing the topic of Residential Schools, and the history that comes with these discussions; to ensure that the students they serve understand the importance of why Every Child Matters flags are being flown at each school, and the significance of wearing an Orange Shirt.
The Board's Manager of Indigenous Education, Shy-Anne Bartlett explained that "these important discussions will bring mixed emotions, concerns, and questions to students and the school community. However, it is paramount that together we learn and understand this chapter of our history to honour those children, their families and the survivors of Residential Schools. It is essential that we acknowledge the past of the country we live in, and teach our students the truth of our history."
During the week of September 20th - 24th, the school board will be hosting a "Week of Well-Being" that is centered around activities for students to make connections in their return to school. Most of the activities that are being hosted are through an Indigenous lens and focus on mental health. The following week, the school board has partnered with Dilico Anishinabek Family Care services who will be providing speakers each morning who will present various educational topics, leading up to the National Day for Truth and Reconciliation. These virtual presentations will be open to all and are reflective of Superior-Greenstone District School Boards commitment to ensuring that the culture of our students is reflected in our collective learning and understanding.
Director of Education Nicole Morden Cormier stated that "Superior-Greenstone District School Board is committed to focusing on truth and reconciliation. To do so, we must first acknowledge and fully understand the truth of the past. The Every Child Matters flag will be flown as a recognition of this commitment, and remind everyone that this commitment is not simply for a day or a week, but daily, because every child matters. These flags are not being flown as a token, but as an important representation of our commitment to learning, understanding, and in the spirit of what it means to learn the truth, as we work towards reconciliation."
Throughout the last several months, the school board has engaged in a number of professional development learning opportunities. In April of 2021, the school board received a presentation from Annie Battiste, a Presenter/Educator on Truth and Reconciliation, Treaty Relations and the Indian Act. Manager of Mental Health Services Deana Renaud explained that, "Battiste discussed the importance of her work and explained the need to build understanding, learn and open our hearts in order to take effective action towards truth and reconciliation." All school board staff were engaged in professional development prior to the start of the new school year and received a presentation from Dr. Jody Carrington, a renowned Child Psychologist and author, who highlighted the need to truly understanding the reasons behind the importance of wearing an orange shirt and the significance of Land Acknowledgements.
Renaud noted that, "it is important for our school board that there is always meaning and understanding in the actions we take, along with a true understanding of the Why we are doing these things such as raising the Every Child Matters Flag and participating in Orange Shirt Day. Through the learning engaged in with Annie Battiste and Dr. Jody Carrington, we know how important it is to put our hearts in to each action along with a true understanding of why. Therefore, the raising of the Every Child Matters flag is not just a visual gesture or token, but is a symbol of the learning that the students and staff are engaged in."
The school board noted that in accordance with National Flag of Canada etiquette, the Canadian flag will receive prominence at all times when displayed with other flags; inside or outside the school buildings. The display of flags is not governed by any legislation and the rules applied by the federal government are not mandatory for individuals or organizations; as they serve as guidelines only. However, the School Board has made a commitment to install separate flag poles at school building over the next several years, so that flags can eventually be displayed separately.
The Manager of Indigenous Education stated that, "it is our history, and it is our collective responsibility to learn, understand and move forward together. This is our opportunity to bring the Truth of Truth and Reconciliation to the forefront in a meaningful way." She noted that, "authentic reconciliation cannot happen without the truth." She quoted Maya Angelou and said that, "when we know better, we do better" and she stated that Superior-Greenstone District School Board strongly committed to "doing better" and will continue engagement in truth and reconciliation."
-30-