Superior-Greenstone District School Board Enhances Experiential Learning Opportunities
One of Superior-Greenstone District Schools Board's key priorities this year has been a focus on building capacity through job-embedded learning and collaborating with community partners to enhance Experiential Learning opportunities. Initiatives have been targeted to students, educators, parents, and underrepresented groups, with emphasis on skilled trades and technology careers, and the apprenticeship pathway.
Experiential Learning is the process of reflecting on an experience, both during and after the experience, extracting meaning from it, and then applying what has been learned. Co-op, Ontario Youth Apprenticeship & Experiential Learning System Lead Shawna Grouette, explained that, "the impact experiential learning has on students is that it allows them to develop a deeper understanding of curriculum and its real-life connections. Through experiential learning opportunities, students engage in education and career/life planning through exposure to a variety of careers and pathways. The learning helps to develop global competency skills, support student well-being through academic and personal discovery, and to prepare student for transition to future employment."
Throughout the school year, Superior-Greenstone District School Board has conducted outreach and developed partnerships with community and economic sector partners to strengthen connections. By the end of the school year, every student from Kindergarten to Grade 12 will have had the opportunity to participate in a skilled trade and technology experiential learning opportunity.
Most recently the School Board through its experiential learning initiative engaged in an Early Years Skilled Trades Project, where approximately 218 Kindergarten & Grade 1 students learned about the skilled trades in a Part 1 of the series called "All the Kids on Builder Street" presentation. Through a partnership with Jamie McMillan of Work Boot Careers, the Ironworker, Welder, and Apprentice Boilermaker and owner of Work Boot Careers, played the part of the site Foreman and showcased the skilled trades/tools used in building a house. After the presentation the School Board launched a House-Building Challenge where classes were given cardboard, building materials and the personal protective equipment to build their houses.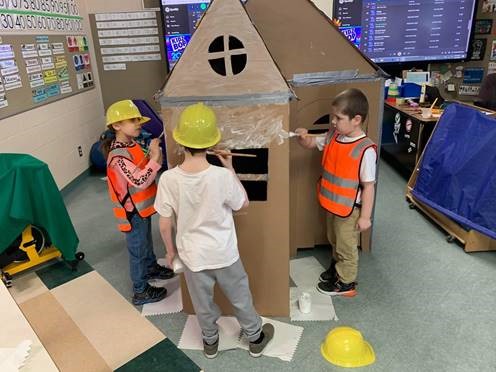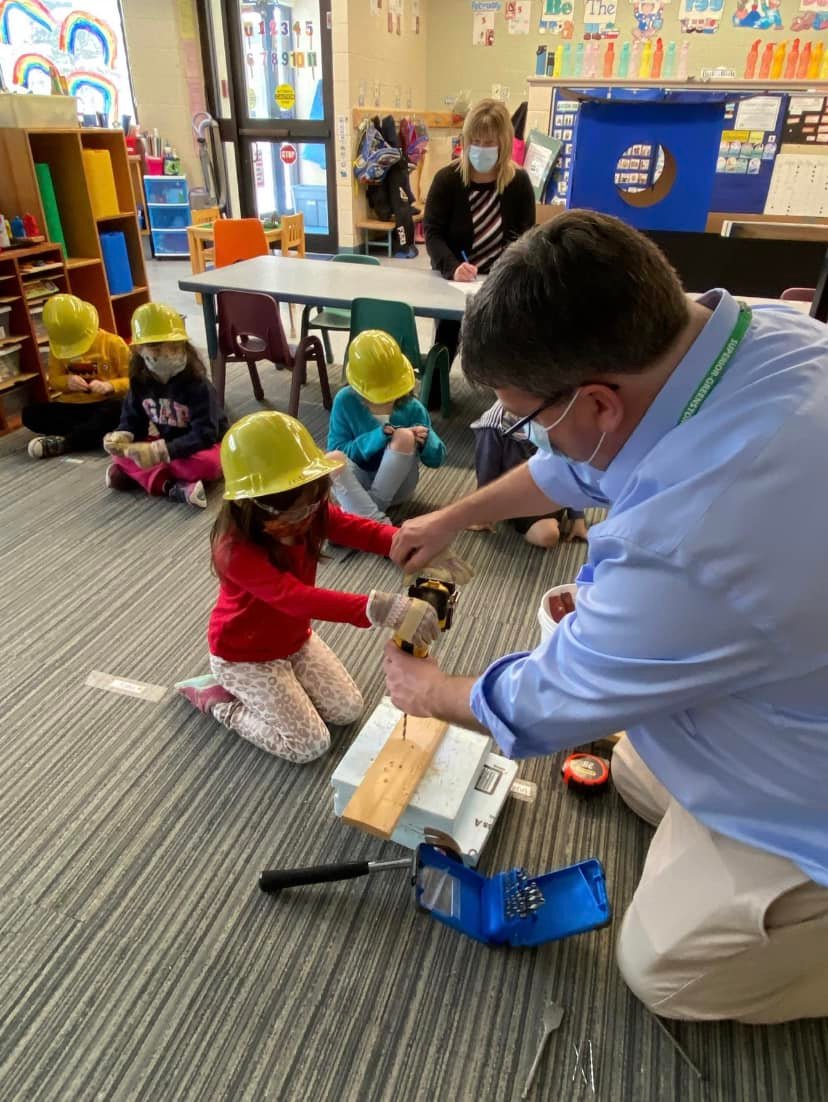 In Part 2 of the House-Building Challenge Celebration, Jamie McMillan once again acted as site foreman and helped to celebrate the work that is being done in the Early Years classrooms. Shawna Grouette stated that "throughout the month, students used inquiry and play to explore the skilled trades. Students were engaged and were excited to present their experience. They showcased their houses, talked about the planning and creation of blueprints, the building, teamwork and reflected on what they learned."
As part of this experiential learning opportunity, classes went on walks around the neighborhood to explore houses, performed experiments to determine the best material choices, and special guests were on-hand to talk about the trades, structures, job safety, and support the use of specialty tools. The students' home designs were well thought out and showcased critical thinking, creativity, problem solving and innovation. Each team had different and unique features and final structures included houses, houseboats, and hunting shelters that were equipped with doors, moving windows, screens, mailboxes, outdoor movie theatres, solar panels, safety features, doorbells, gardens, and much more.
On April 13, 168 Grade 2 & 3 students and staff participated in workshops delivered virtually by an industry professional. Through this project, students become familiar with various career pathways, basic terminology, and concepts in the Pastry Arts industry. Participants were involved using interactive games, wearing chef attire, decorating cookies with their individual kits, and took recipes home to do with their family.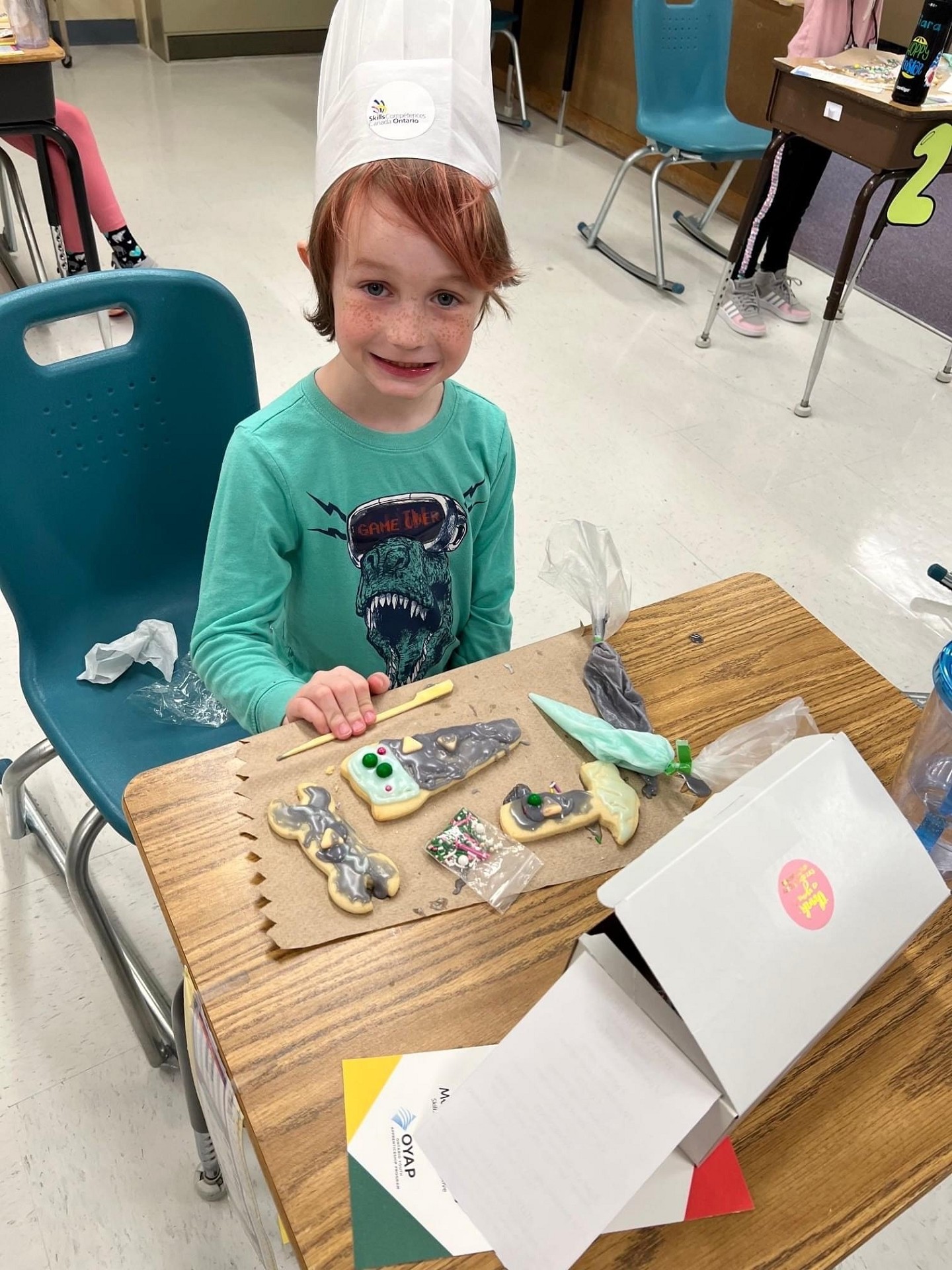 This year marked the first year that elementary students Grades 4-8 participated in the Virtual Skills Ontario Competition in LEGO Robotics, Character Animation and TV Video production. One of the educators who participated with their students in the LEGO robotics competition expressed gratitude to the School Board for providing the opportunity. The educator stated that the "students love LEGO and I have seen them use their teamwork and computational skills, patience, and perseverance through this experience which are all skills that they continue to work on daily. Some students expressed that they were excited to be at school because of the LEGO Robotics they got to use during Math. I have used LEGO in my class for students to build social skills and use their imaginations and this opportunity has shown me how I can further connect this enjoyment with the curriculum. I am super excited and so are the students".
The School Board will continue to build capacity and collaborate with community partners to enhance experiential learning opportunities that meet the needs of all learners. Several events are planned that will increase gender/cultural awareness training related to career exploration with a focus on the trades and technology. Events include the Ontario Skills Showcase (including the Young Women's & First Nations, Metis and Inuit conferences which is a partnership with Skills Ontario), Edge Factor for Grades 6-12, and a pilot project with Skills Ontario titled the Motive Power spotlight presentation & hands-on workshop for Grades 4 & 5.
Made possible through partnerships with six Northwestern School Boards, the Kickstart Your Skilled Trades Future event is scheduled for May 11th with multiple sessions for students. Families are also encouraged to register for the evening event to learn more about skilled trades and how best to navigate the pursuit of an apprenticeship. The event will feature a keynote presentation from entrepreneur and professional speaker Sam Demma who will share his insights on destigmatizing the skilled trades and the importance of supporting students' career interests.
The activities and learning available to students will showcase the pathways available and through hand-on learning assist students in finding a career that they love. The Superior-Greenstone District School Board is committed to continue to enhance the experiential learning opportunities as part of their Multi-Year Strategic Plan, as they continue their work to inspire students to succeed and make a difference.
-30-