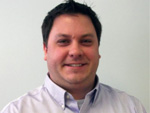 The Superior-Greenstone District School Board is pleased to announce the appointment of Will Goodman as Interim Superintendent of Education pending Ministry approval.
Mr. Goodman brings a wide range of knowledge and experience to the position of Interim Superintendent of Education which will be integral as a member of the senior administration team. For the last three years Mr. Goodman has held the position of Special Education Lead with SGDSB. In this position he has worked with teachers and administrators throughout the district, supporting the needs of identified students with staff training in effective assessment and instructional practices. Mr. Goodman is highly respected among his colleagues for his depth of knowledge, level of expertise and passion for learning. His reputation as a highly effective communicator and presenter received provincial recognition earlier this year when he was asked to present at a conference on learning disabilities.
Mr. Goodman says "I am honoured and privileged to work with such a committed and knowledgeable staff. We hope to build new relationships and continue to foster those that already exist. Our collective work can only be realized when equitable opportunities and outcomes are sought for all learners. I am looking forward to the challenges and opportunities that lay ahead for SGDSB."
Mr. Goodman's career with Superior-Greenstone District School Board began as a French teacher at Nipigon Red Rock District High School in 2003 before being appointed Principal of the Dorion and Red Rock Public Schools in 2010. Having worked as a Principal in two small communities, Mr. Goodman understands the importance of community engagement. Goodman stated that, "Establishing and maintaining strong relationships with families, staff, and our community partners is vital to ensuring that our schools thrive".
Mr. Goodman holds a Master of Education degree from Lakehead University, a Bachelor of Arts and a Bachelor of Education from Lakehead University. He has also acquired qualifications in Special Education, and French as a Second Language. He recently completed his Supervisory Officers Qualifications offered through the Council of Ontario Directors of Education.
Director of Education, David Tamblyn stated that he is very pleased to welcome Mr. Goodman to the team of senior administration and looks forward to working with him in this capacity. "Through the course of his career Mr. Goodman has demonstrated his commitment to student achievement and his extensive experience will lend itself well in his role as Superintendent of Education".