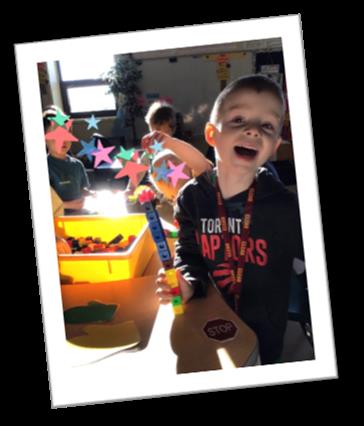 Hello from George O'Neill Public School in Nipigon, Ontario. My name is Jackie Gale and I have had the pleasure of working as the Positive Behavior Interventionist for the Superior-Greenstone District School Board. Kayden is an amazing 3-year-old, non-verbal child, who has Autism. His transition into Junior Kindergarten was difficult. It was a brand new "busy" environment. Kayden did not know anyone, and initially staff were unsure of how best to support this adorable little boy. Kayden attended half-time with frequent crying, laying on the floor and temper tantrums. However, through the use of evidence based practices that included; Picture Exchange Communication System (PECS) as well as Positive Behavior Support (PBS) strategies and collaboration between the Teachers, Educational Assistants and Parents, Kayden's Journey began.

Kayden's Mother shares her reflections on her son's journey and stated that "the Positive Behavior Intervention Program has given my son a voice, a voice where he can express through pictures his feelings, wants and needs. Through this program, Kayden was able to get the help he needed using PECS to develop language as well as PBS strategies to teach the critical skills needed for him to be successful in the classroom."
The program has provided a learning opportunity for the Educational Assistants and therefore building capacity within the school so that staff can assist Kayden to succeed each day. Kayden's Mother noted that "this Program has completely changed our lives as Kayden is now using a sentence strip to request "I want blue car" or "I want to go to the park". Imagine having a son who cannot tell you he wants to go outside, ride a bike or go sliding. That has now changed and Kayden is happier, more independent, settled and plays with his classmates."
Kayden's journey has been successful through the ongoing collaboration between the staff, school board system supports and the Kayden's family. His success is highlighted by the increased use of words and sounds as well as very limited crying and temper tantrums. He now has 100 words that are clearly spoken. Kayden knows his ABC's, he can count to ten out loud, complete independent work tasks in his classroom, participate in gym, outdoor sliding and classroom activities with his classmates!
Kayden's journey is a great example of how the Superior-Greenstone District School Board positively supports the whole child and student well-being. Together "our small schools make a difference". Well done Kayden!