SGDSB Celebrates Local Government Week
Celebrating Local Government Week October 18 - 22, 2021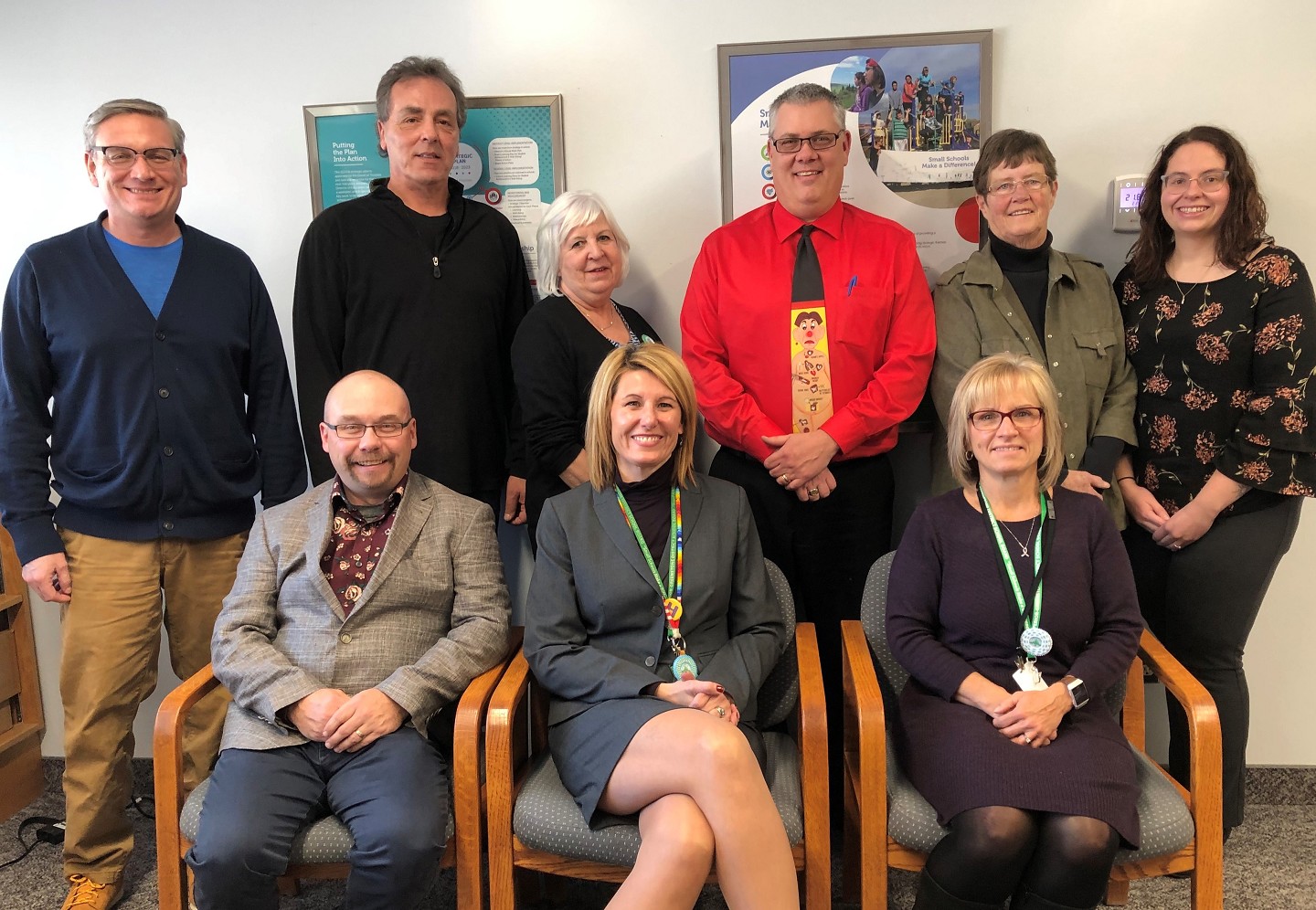 (Pictured above left to right: (back row) Paul Cormier, Kal Pristanski, Margaret McIntyre, Jason Nesbitt, Christine Major, Allison Pelletier (front row) Mark Mannisto, Director Nicole Morden Cormier and Board Chair Pinky McRae. Missing from the photo is Trustee Mic Groulx and Student Trustees Grace Molinski & Erin Couture.)
MARATHON, Ontario – This week, the Superior-Greenstone District School Board, along with their partners at the Ontario Public School Boards' Association (OPSBA), are working to raise civic awareness among students by observing Local Government Week, October 18 to October 22, 2021.
School board trustees are the oldest form of elected representation in Ontario. Since 1807, generations of community-minded citizens have made decisions on behalf of local, publicly funded schools, building the foundation of our system today. The board of trustees sets the vision, develops policies, allocates resources, and sets the goals that lay the foundation driving programs and operations in the board. Collectively, they create the multi-year strategic plan for student achievement and well-being and recruit and monitor the performance of the Director of Education to ensure their progress in meeting the goals of the board.
Board Chair Pinky McRae, who has served as trustee since for more than 10 years, stated that "school board trustees are members of a District School Board. They are locally-elected representatives of the public, and they are the community's advocates for public education. School boards – the elected board of trustees – are responsible for student achievement and well-being, for ensuring effective stewardship of the board's resources and for delivering effective and appropriate education programs for their students."
The Education Act and its regulations set out the services that district school boards and school authorities must offer. The responsibilities of a school board include a key governance role with
respect to operating schools according to provincial legislation, monitoring the policies of the schools and the achievement of students and, through the director of education, holding the entire system accountable for meeting provincial and board standards.
The Kindergarten-Grade 12 education sector is the second-largest recipient of provincial funding, after healthcare. The provincial government estimates that they will invest about $25.6 billion in education for the 2021-22 school year. Public school trustees across the province, oversee budgets ranging from approximately $46 million to over $3 billion.
Fast Facts about Trustees
· There are different kinds of trustees:
o Trustees elected every four years during municipal and school board elections, including more than 320 publicly elected trustees representing 31 public English school boards and three school authorities across Ontario.
o Indigenous Trustees appointed to the board by First Nations communities. More than half of Ontario's English public English school boards have Indigenous Trustees. Dr. Paul Cormier was appointed to the Board as Indigenous Trustee on October 2019.
o Student Trustees elected by the student body of the board. The Ontario Student Trustees' Association (OSTA-AECO) represents more than two million students.
o Hospital board/school authority trustees are appointed by the Minister of Education for a term of four years, on the same term cycle as publicly elected trustees.
The election of school board trustees is governed by the Education Act and the Municipal Elections Act, 1996. Both are the laws or rules that trustees follow.

About Ontario's Public Education System

· Preparing students to become productive and contributing citizens is the foundation of a civil society.
· Ontario's English public district school boards provide universally accessible education for all students, regardless of their ethnic, racial, or cultural backgrounds; social or economic status; gender; individual exceptionality; or religious preference.
· The English public system is founded on the principle of equity of educational opportunity: every student deserves an opportunity to achieve to his or her fullest potential.
· Public school boards provide high standards in their programs and ensure that there are supports and resources to help all students reach those standards.
· Public school boards also focus on character education to ensure that students develop as caring and responsible members of their community and of Canadian society as a whole.
· Character education embraces values such as Citizenship, Cooperation, Courage, Empathy, Fairness, Honesty, Humility, Inclusiveness, Initiative, Integrity, Kindness, Optimism, Perseverance, Resilience, Respect, and Responsibility.
· English public district school boards, in partnership with parents and caregivers, prepare students for success in whatever field they choose.
The Superior-Greenstone District School Board Trustees include Pinky McRae and Margaret McIntyre representing Marathon, Michael Groulx representing Red Rock/Dorion, Allison Pelletier and Mark Mannisto representing Greenstone, Kal Pristanski representing Nipigon, Christine Major as representative of Manitouwadge, Jason Nesbitt representing Schreiber/Terrace Bay, Paul Cormier representative of First Nations Communities and Student Trustees Erin Couture and Grace Molinski. Together this group represent their constituents and work with Superior-Greenstone District School Board Senior Administration in the delivery of quality education for students.
-30-