Students Enhance Coding Skills
During the months of November and December, learners from across Superior-Greenstone District School Board once again participated in the annual Beyond the Hour of CODE challenges. This annual event consists of a series of coding challenges that learners of all ages can participate in and these events culminate with the global Hour of Code event. For this year's global Hour of Code, there were over 61,000 coding events held worldwide. In Canada alone, there were over 1030 registered coding events! Schools from across our district joined educators and students from across the world to celebrate computer science week. Students demonstrated their learning, and practiced their problem solving, perseverance and collaboration skills using a variety of tools.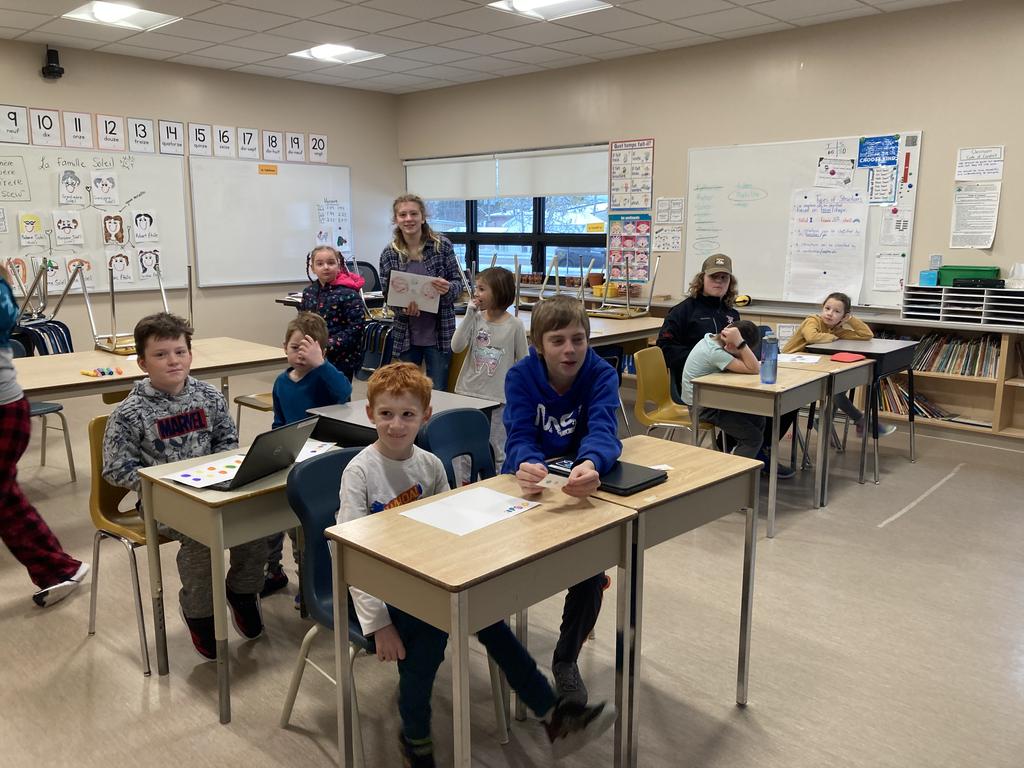 Technology Enabled Learning and Teaching Principal and District e-learning Contact Stacey Wallwin stated that "Superior-Greenstone District School Board added some additional activities during the annual event to support our social emotional needs of the students. Our learning spaces during the holiday season can be full of excitement and interrupted schedules and this can cause increased dysregulation of our emotions. The social-emotional activities allow students to have brain and body breaks so that they could regulate their emotions which would allow them to re-centre themselves and be in a positive, open mind space to learn their new coding skills."
Learning code is important to the school board, as it is their goal is to introduce students to the back end of the technical world they live in and help students to wonder how they can make the technology work for them. Wallwin explained that the school board wants their "students to be active, not passive users of technology. We aim to open up a world of possibilities that will drive their passion, make them curious about the world they live in and provide opportunities to see themselves in careers and roles that may be new to them. Learning to code provides our students with so much more learning than just learning to code." As one of the grade 4 coders, Justin Young, from Nakina Public School said about learning to code, "I tried my hardest and I did it! It was fun! It helped my brain get bigger!"
Learning to code was a collaborative effort at Terrace Bay Public School this year. Students were empowered to be the lead learners and to help each other out. Students in Mrs. Velanoff's class at Terrace Bay Public School were so excited to share their newly acquired coding skills that they became the coding teachers and taught the students in grades 1/2 how to code secret messages back and forth. When Mrs. Velanoff's student's need some coding support for their Minecraft challenge, Sydney Peath from the grade 8 class was more than willing to share what she knew, but most importantly she told Mrs. Velanoff's class, "I'm going to teach you how to code, not do it for you." Rich learning is truly taking place when students can share what they know and can support the learning of others.
The students' excitement for learning to code knows no bounds. The school board was impressed by the students' creativity, resourcefulness and willingness to support others on their coding journey and reflects the positive work of their Multi-Year Strategic Plan. Although the Beyond the Hour of Code challenge has officially ended for the season, the coding journey continues through the year for the students of Superior-Greenstone District School Board.