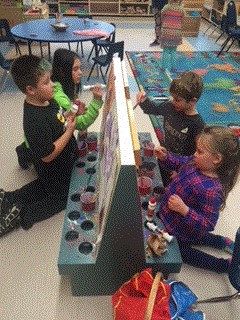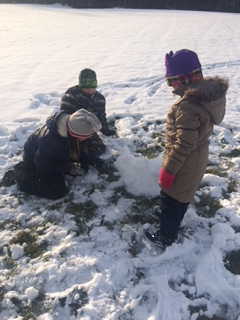 Superior-Greenstone District School Board would like to express our deep appreciation for the help and support of our Best Start partners and agency professionals who have contributed their resources, time, and energy to make our After School Development Programs in the Nipigon and Dorion areas a huge success! Designed and developed for ALL families with children between the ages of three and six, our program achieved its goals of strengthening friendships and play skills, enhancing transition practices from the early years to kindergarten, and raising parental awareness of professional supports available in our district.
Divided into eight weekly themes, the after school development program targeted topics to support healthy child development. A few topics included well-being and emotion regulation, communication, and outdoor play. "I've been impressed with the quality of speakers the After School Program has brought in
for us. I always learn something new. And the children have loved the play opportunities with the facilitator," said one parent who attended with her two children. Another parent who attended the program throughout with her child expressed that, "The After School Program has been nothing but positive for us. Starting over again as older parents, this program has helped in so many ways, and after each presentation, I find myself researching further at home. It's been an amazing experience for us and our child."
Relationships are at the heart of the Superior-Greenstone District School Board, and the transition to kindergarten is of great importance to us. Having opportunities to get to know our families prior to kindergarten through discussions, school visits, or participating in events or programs such as the after school development program allow for strong bonds to form and our school communities to grow. These opportunities allow our staff to work hand-in-hand with our families to ensure that our schools are ready for each individual students' arrival so we can meet our students where they are and can help them to continue to grow and flourish.
Though funding was only made possible through a successful proposal granted by the Ministry of Education for the 2017/18 school year, we would like to thank our parents who not only attended the program, but offered valuable feedback on its development. The feedback provided will not only help to inform our remaining two programs in Manitouwadge and Longlac, but also guide the development of the program should we be able to run it again in the future.
A special thank you to the following agencies for their support: Children's Centre Thunder Bay, Autism Ontario (Thunder Bay Chapter), Superior-Speech Services, Superior Therapy Services, Child & Community Resources, Nipigon Family Health Team, Kindergarten teams from George O'Neill Public School and Dorion Public School, and Dilico Anishinabek Family Care.
We encourage our families to contact any of our schools at any time to inquire more about the Transition to Kindergarten Season. School Facebook pages offer a wide range of on-going activities that may also be of interest. If you have any questions regarding the After School Development Program, please contact Melissa Bianco at 807-889-1327 or mebianco@sgdsb.on.ca.