SGDSB Launches New 2018-2023 Strategic Plan and Board Website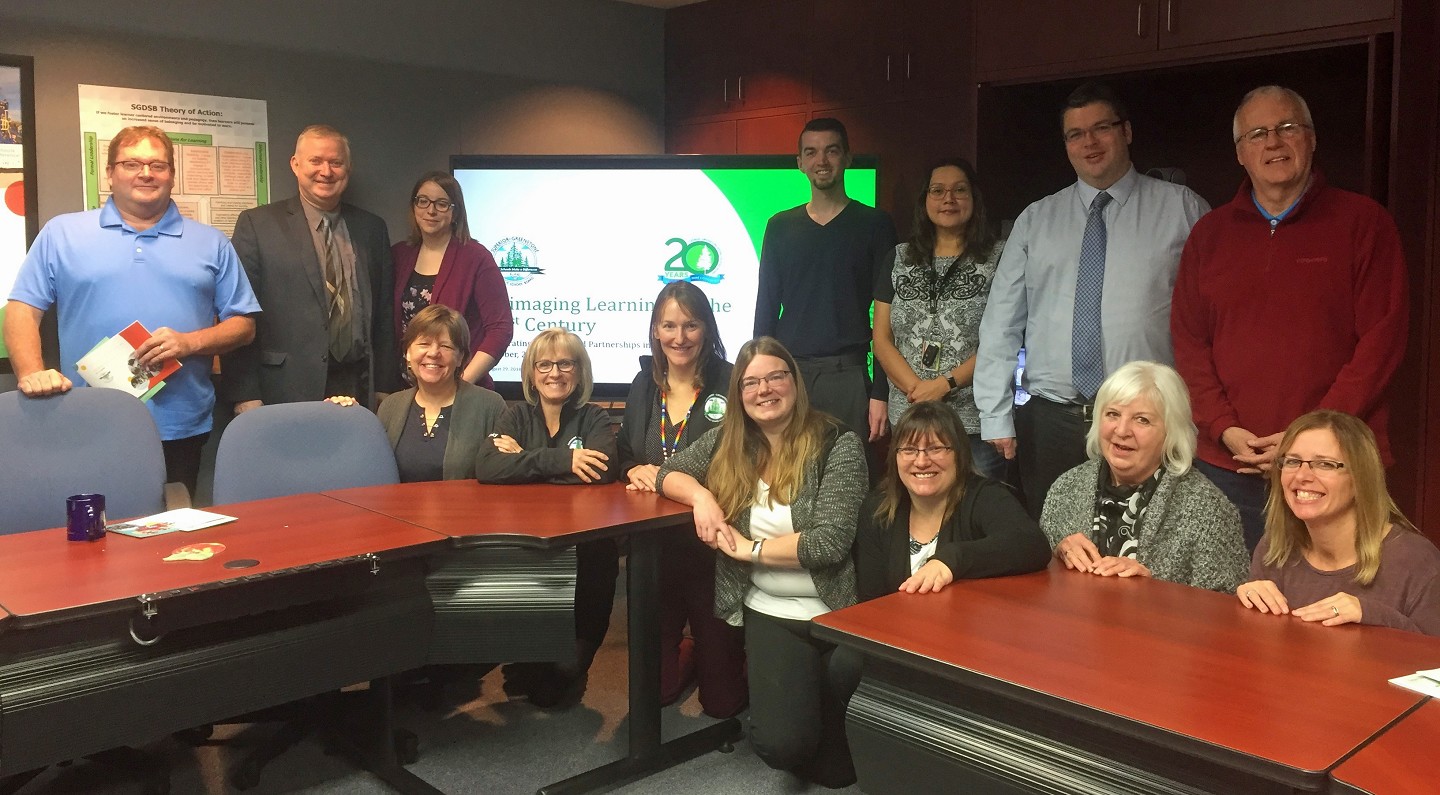 Superior-Greenstone District School Board is pleased to announce the launch of a new 5 year Strategic Plan aimed at enacting the Board's vision and mission. On Friday, October 26, 2018 the Board presented the 2018-2023 Strategic Plan to the communities by way of virtual connection across the district at the Board's 5 videoconference locations. The meeting was well attended and provided the School Board with an opportunity to personally thank community partners including the First Nation Communities, Municipalities, agencies, etc.; for their ongoing support and collaboration.
The Strategic Plan was developed following a vigorous and inclusive process that included both Board Trustees, staff, student and community partner input. The 2018-2023 Strategic Plan is comprised of four pillars; Learning, Well-Being, Relationships and Stewardship. The four pillars are interconnected by the overarching theme of equity, articulated by identity and belonging.
Board Chair Pinky McRae said, "As we look to the future, it is important we maintain the qualities that make Superior-Greenstone District School Board stand out, that help our students succeed and that build on our past success. Over the past five years, Superior-Greenstone has been recognized for our academic achievements, our unique programming, our commitment to social justice and Indigenous education. We have introduced Ojibway language instruction in many of our elementary schools. We have developed a deeper understanding of the learner-growth mindset, sense of belonging to the environment and to the learning, and the power of relationships. We have developed strong partnerships with our local businesses, industry and the service sector to provide our students with innovative learning experiences and pathways to future careers. The Strategic Plan is innovative and exciting as it positions our School Board to achieve our aspirational goals and realize our vision."
In line with the vision and mission of SGDSB, the strategic directive of the Strategic Plan is to "Inspire our students to succeed and make a difference." Interim Director of Education Nicole Morden Cormier stated that, "Our schools are the heart of each community and our partners help support our learners in many ways through cooperative education, knowledge sharing, and student well-being. We are grateful for the opportunity to present the Strategic Plan and thank our partners for their ongoing support. Our responsibility as educators is not only to educate young minds but to support young people in developing and building their identities, individually and together. Our Strategic Plan is founded on the work that we are doing to re-imagine learning, what is important to be learned, where learning happens, and how we are measuring success. It truly takes a village to raise a child, and we are committed to continuing to enhance the relationships we have with our partners to do so. Today, the impact of this work was demonstrated by the presentation from our Student Trustee, Logan Furoy, as his understanding, leadership and support of this Strategic Plan was unquestionable."
In conjunction with the launch of the new Strategic Plan, the Superior-Greenstone District School Board also announced the launch of their new Board website. With the help from the design firm Generator, the new website has been created to offer the ultimate user-friendly experience with improved navigation and functionality. Once the design was finalized, the site was then developed by Sencia Canada Ltd. Throughout the development of the site, the user experience was a pivotal focus. Visitors to the new site can stay informed with the continuous SGDSB news updates from our social media outlets, a section for Student, Staff, Parent and Board Resources, as well as platform to share the success of our learners. Morden Cormier shared, "This website is integral to continue to enhance transparency and communication."