Principal Honoured With OPC Award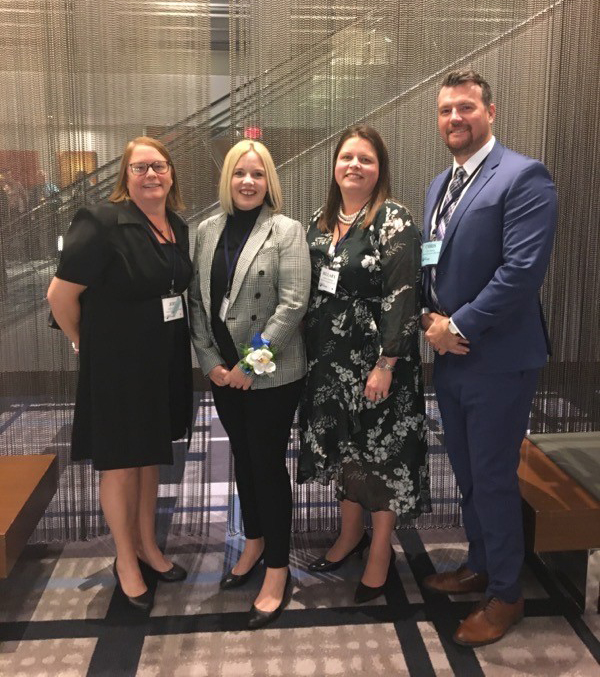 MARATHON, Ontario – The Superior-Greenstone District School Board is pleased to announce that Kellie Wrigley, Principal at George O'Neill Public School in Nipigon, Ontario, has been named the Difference Maker of the year by Ontario Principals' Council (OPC). The announcement took place at the annual OPC gala held at the Toronto Hilton on October 25, 2019. The OPC represents its 5,000 members of elementary and secondary school leaders from across Ontario.
"We are proud to celebrate Kellie Wrigley and the honour she has received. She has served as a model for compassionate school leadership, as the Principal of George O'Neil Public School (GOPS) for many years," stated Nicole Morden Cormier, Director of Superior-Greenstone District School Board. "Kellie has made a profound and deliberate impact on her students, teachers, and administrators by creating an environment responsive to her school and community's specific needs, while also allowing for innovation to ensure academic success and well-being."
Wrigley has dedicated her career to the communities of Nipigon, Red Rock and Lake Helen First Nation. Over her tenure she has brought several innovative and responsive programs to the school, including archery, Hockey Canada Skills Academy, theatrical productions, the GOPS Choir and the Ogichiita Drummers. Through her leadership, these programs have had a positive impact on her school and community. Her innovation has inspired and motivated others within the region to implement similar programs. She understands the importance of supporting all students in having a positive sense of well-being, ensuring that they learn, grow and thrive. Wrigley is an exceptional and well-respected leader with the Superior-Greenstone District School Board and in the province.
Upon receipt of the Difference Maker of the Year award, Wrigley expressed her gratitude to her fellow leaders for recognizing her for this award. She said that "as leaders in our small communities, we all have an obligation to provide every opportunity we can to support students, develop interests and increase academic achievement. During my time as a teacher and as a principal, this is something that I have always prided myself on and kept at the forefront of everything I do. I am lucky to work in a board that supports and values this, and with amazing colleagues who work hard daily to bring the best to our kids. I am thankful to be recognized for this work, which would not be possible without community partnerships and strong relationships that make all of this happen."
Director or Education Nicole Morden Cormier stated that "For Kellie, the role of principal is not just a job, it is a true calling. She is a very strong instructional leader whose care and concern for her students, her staff members, and her school community is evident in all that she does. Her spirit, along with her hardworking demeanor and dedication, is a key to her success. I am sure it was noted by those who selected her to be the Ontario Principals' Council Difference Maker of the Year."
-30-