Denis Nault Appointed Manager of Human Resources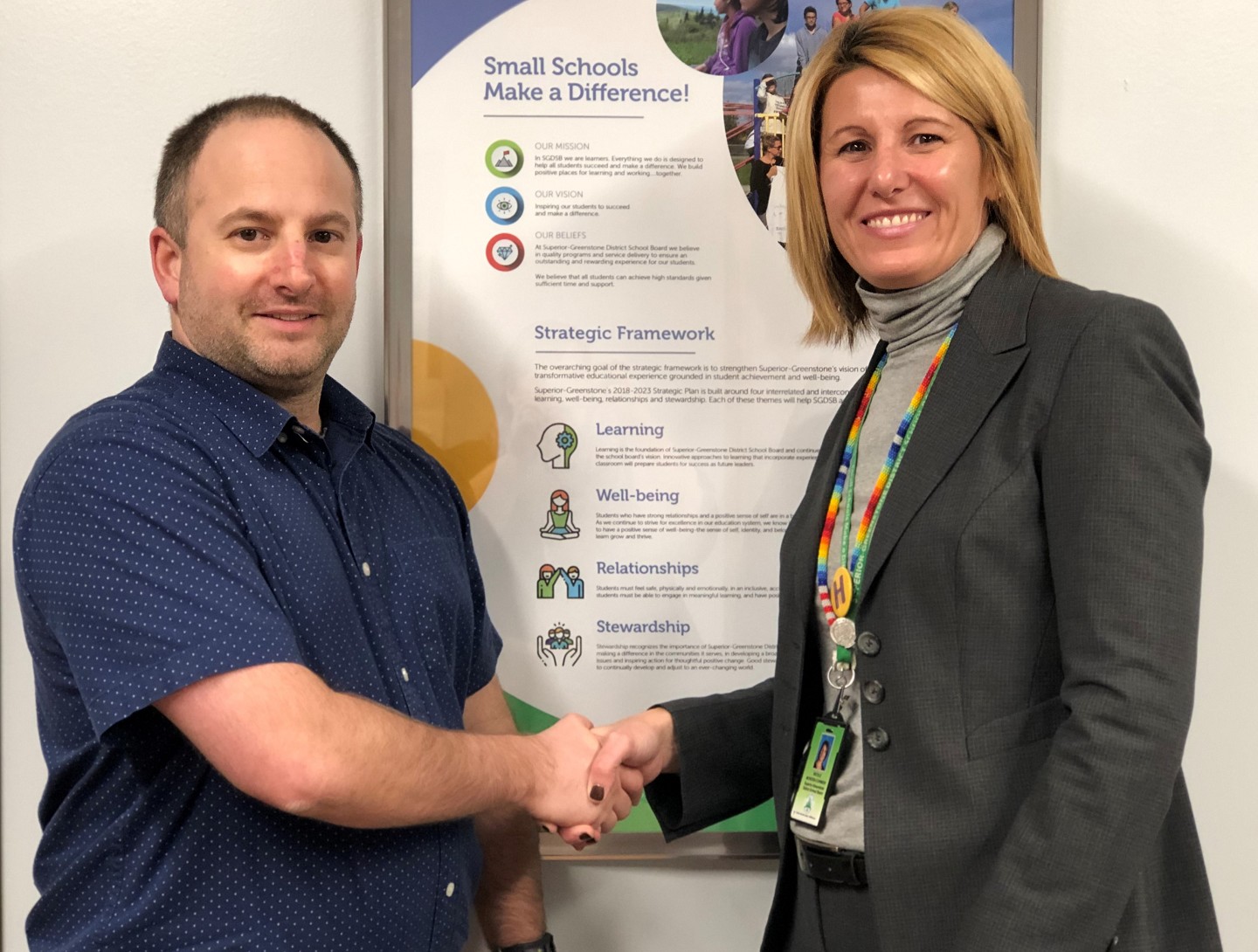 Pictured left to right: Denis Nault, Manager of Human Resources and Nicole Morden Cormier, Director of Education
MARATHON, Ontario – The Superior-Greenstone District School Board (SGDSB) is pleased to announce the appointment of Denis Nault as their new Manager of Human Resources. He began the transition to his new role on November 18, 2019 and is expected to begin his duties full time in January 2020.
Nault brings with him 18 years of experience in Human Resources Management and holds an Honours Management Degree majoring in Labour Relations, coupled with a diploma in Human Resources Management. In addition, Nault has continued his education through the completion of several courses through Queen's University in the areas of negotiations and dispute resolution. His vast work experience includes the position of Labour Relations Officer with the Ontario Nurses' Association, Manager of Employee Relations with St. Joseph's Care Group, Director of Rehabilitative Services with St. Joseph's Hospital and work as an HR Consultant (Generalist) with stays at the Ministry of Transportation, Ministry of Natural Resources and the Ontario Provincial Police.
"I am very excited to have this privilege of leading the Human Resources Department for Superior-Greenstone District School Board. I believe strongly in investing in our faculty and staff because it is core to creating a positive organizational environment," said Nault. "I look forward to working in partnership with my colleagues across the district to continue implementing the strategic vision of the board."
In his new position, Nault will provide overall leadership to the Human Resources Department for the Superior-Greenstone District School Board. The school board located in Northwestern Ontario, covers a vast area of 45,100 square kilometers and is responsible for providing public education through its operation of 15 schools located across the district.
Director or Education, Nicole Morden Cormier stated that she is "delighted to welcome Denis Nault to the Superior-Greenstone District School Board team. Denis brings a breadth of human resources expertise, which will help us advance our ongoing stewardship initiatives and investments in human capital management. This experienced leader joins our team of exceptionally skilled and dedicated employees across the district and will be a key partner as we work towards operationalizing our multi-year strategic plan."
Denis succeeds Valerie Nakani, who recently served as the board's Human Resources and Payroll Officer. The Director of Education expressed her gratitude for the years of dedicated service provided by Ms. Nakani and wishes her continued success in her career.
On behalf of the Board of Trustees, Morden Cormier extended warm congratulations to Denis and looks forward to working with him on the Senior Management team as the new Manager of Human Resources.
-30-